In This thread write down your SS ALT Accounts used ONLY for the purposes of Scouting.
For example "SS-Yourname"

(All usernames must be appropriate.)

Anyone found abusing and using the account for anything else will be disciplined severely.
Layout
Habbo Username:
Rank:
ALT Account:
Once done request the Public Affairs ALT badge.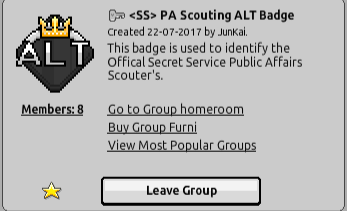 Last edited by Majestic-x on Wed Aug 09, 2017 10:23 am; edited 1 time in total