Proudly Present the SoTM is back!

What's SoTM?
The scouter for the month which scouts the most and has met the basic requirement. Only members from Public Affairs is able to participate.
What can I get from SoTM?

-SoTM Badge from PA Leadership
-Exempted from Scouting for the first two weeks for that month
-Graphic picture of your habbo avatar being posted in social media
-Free HC for your ALT Scouting Account
Criteria in participating the competition?
-Members of Public Affairs
-Not on LOA for that month
-Have a portfolio under scouting group
How do we pick SoTM?
Your portfolio will be marked every week. We will based on the following:
1. Numbers you have scouted per week
2. Recruits you have recruited per week
Questions: How do you know whether I've recruited?
All markings will be base on your screenshots. Successful recruit got from scouted must have the following screenies:
-The person being approached by you in a public room
-The person being brought to SS base with Recruit motto and badge
-The person being trained with trainee motto/trainer logs
Question: Can I get SoTM continuously?
No. You can only get SoTM once every 3 months even though you have the best result every months. Eg. if you get SoTM for Sep, you are unable to join again until December SoTM.
First SoTM of SEPTEMBER will be announce on October 2nd (Monday).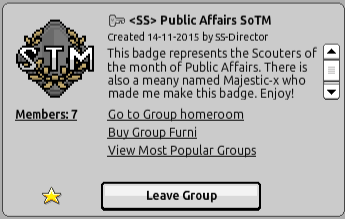 So grab your opportunity today!!
Cheers,
Phaedrea